Social Media Management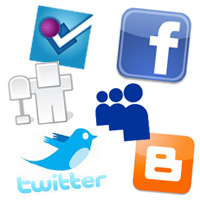 Whether you use social media personally or not, it has become a big part of Internet marketing. Social media is an easy way to stay in touch with your customer base, and to keep visitors returning to your website.
Antevo can setup and teach you how to manage your ongoing social media campaigns.
We can help you with:
Facebook Pages and Groups
Twitter feeds
Blogging (Blogger, Wordpress)
Submitting articles to Digg, Reddit, Ezine and other article websites.
Setting up a Facebook Page, and Twitter account is only the start. You need to know how to update these on a frequent basis to provide your fans/followers with the latest news and content. Antevo can help you by providing content or advising what you should and shouldn't be posting.