E-Commerce Website Design (Online Store)
What is an E-Commerce Website?
An e-commerce website, sometimes referred to as an online store, is a website which allows customers to purchase products online.
How do E-Commerce Websites work?
An E-commerce website usually consists of a Product Catalogue, where users are able to click a "Buy Now" or "Add to Cart" button and are taken to a checkout screen. From this screen they enter details such as shipping/billing address and payment information and once the order is submitted the system will process the transaction (usually via a credit card gateway).
How can Antevo help?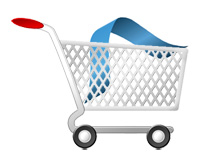 Does your business sell a range of products? Small or large - we can design a complete E-commerce solution to suit your organisation.
Our integrated systems will create a fully categorised and searchable product catalogue on your website. We have a complete shopping cart/order management system that will allow customers to add products from the catalogue to their "cart" and pay for orders in a few easy steps as part of our e-commerce solution. Also, our Content Management System will allow your staff to manage information on your website including page text and product details.
We also provide several online marketing services to increase traffic to your website, including: Online Advertising, Search Engine Optimisation (SEO) and Email & SMS Marketing.
Our eCommerce Development Process
The stages involved in the production of an Online Store/E-Commerce Website include:
Analysing your organisations values, goals, target market, product range, customer base and pricing structures.
Creating and presenting several design concepts in line with your branding requirements.
Converting the selected design concept into the HTML programming language.
Loading all supplied information and page content.
Creating and uploading artwork associated with page content.
Collecting product data including item codes, product attributes, images, data sheets, pricing, etc.
Importing product information and configuring category structure and catalogue layout.
Configuring customer log-ins and account management.
Customing shopping cart and payment gateway set-up.
Checking and testing of website and shopping cart.
Staff training and set-up of visitor statistics/analytics.
Can you convert our current website?
Yes, we can convert your current product based website, or shopping cart to our system. We can also integrate your existing eWay account. See our eWay Website Integrations page.
Do you support the Magento Commerce platform?
Yes, we can either convert your current Magento powered website to our system, or else update your existing Magento system. See more information about our Magento Commerce Development services.
Example eCommerce Websites
Have a look through a few of our eCommerce enabled websites:
What should I look out for?
Many web developers will either custom develop an E-commerce website (usually very expensive) or utilise a prebuilt software package. These software packages are generally licensed either as Open Source or Commercial software. Commercial software is normally very well built by an experienced team of engineers, but is often quite expensive. Alternatively Open Source software is usually free, however in some instances "you get what you pay for" and the software is not the best selection or not always implemented correctly, leaving you with a system that is not easy-to-use and effective to maintain.
---
< Back to Services