What to know about the Apple iPad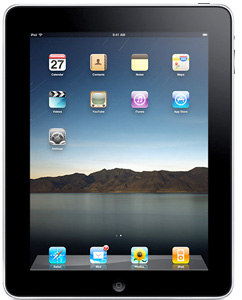 Here are all the details you need to know about the upcoming Apple iPad.
Size
The Apple iPad is 243mm x 190mm and weighs around 700g depending on which model you get.
Display
9.7" display that runs a 1024 x 768 resolution at 132 ppi (pixels per inch).
Computing Guts
1GHz Apple A4 processor (new custom designed processor).
Battery
10 hours of Wi-Fi enabled video/music/time wasting.
Signals
Wi-Fi and 3G depending on which model you get. Wifi is suitable for your home wireless network, or other wireless hotspot (e.g. Maccas). 3G reception is via your phone carrier and requires a separate plan and micro simcard.
Models
There are 6 different models you can choose from. Select your signal: Wi-Fi or Wi-Fi and 3G. Select your memory size: 16GB, 32GB or 64GB.
Apps
All currently available iPhone apps are able to be run on the iPad too. There will also iPad only apps that make the most of the extra screen real estate.
First Thoughts
What's the point? It is an awesome piece of technology, the interface and usability is what you would expect from Apple, yet I am unable to find a suitable niche for this product. If you are looking to purchase an iPad when they come on sale in Australia on April 28th 2010, understand that this is definitely not a laptop replacement. It might be a lot easier to quickly find some information on, but it lacks in a lot of areas that your old laptop can already do.
< Back to
Business & Technology Blog