Website Analytics Report Basics
Before we look at what each graph represents, you will need to note the differences with the following terms:
Visit: a user visits your website and leaves. If they return again, this is counted as a second visit.
Visitor: is a unique user. This is also known as a "unique visitor" (UV) or "unique browser" (UB).
Pageview: each time a page is loaded, also known as an "impression"
The first graph from our imaginery website is the visits per day.

Fairly straight forward but here is what you need to know:
each dot represents the number of visits on each day
shows the past 31 days
Now there is some very useful information in the Site Usage area. As explained above you will see how many visits and pageviews your site has received in the past 31 days. You will also see a Pages/Visit which is just the average number of pages each user checks out. Not a very accurate statistic since it is just an average, but you know if you are getting 1 pageview per user that you need to work on your website! Note that the graph next to each figure is the amount for each day for the past month.

The Bounce Rate is the number of people who hit the first page they visited, and then leave immediately without visiting another page on your website. A high Bounce Rate can be both positive and negative depending on the setup of your website. It may mean that your visitors find exactly what they want on the first page (e.g. a phone number to contact you), or it may mean that the page is useless and they just close the window. Always keep an eye on your Bounce Rate and make changes accordingly to see how it fluctuates.
Another useful stat is the Avg. Time on Site. This shows how many minutes your visitors are hanging around for before leaving your website. Keep in mind that if you leave your own website open for long periods at a time that you might skew this figure a little.
The % New Visits is how many of your visitors in the past 31 days have never been to your website before. If your website is a community based website, you would expect to see a low % here. If you website sells only 1 product, you would expect to see a very high % here as you will continually have new visitors coming to purchase the product.
On the next page, the Visitors Overview is very similar to the Visits Overview graph, the only difference is that this is based on unique visitors. This will be less than visits as each visitor can have multiple visits (if you can get your head around that!).
The Map Overlay shows which countries your visitors are coming from. Note the different shades of green represent how many users are coming from each country. Fairly self explanatory here.
The Traffic Sources pie graph shows the % of where your visitors are coming from. Note the definitions below:
Referring Sites: other websites linking to yours
Direct Traffic: visitors typing in your URL (domain name) directly into the browser
Search Engines: users coming from search engines such as Google, Yahoo and Bing.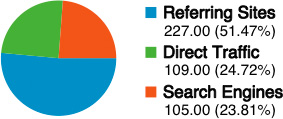 The Content Overview illustrates which are your most visited pages on your website. Note that if you see a "/" then this would indicate your homepage. This is also just the top 5 pages, not every page on your website.
The next page recaps a lot of what you already know. There is also some more technical details such as what Internet browsers visit your website and what Internet connection they have if this is of any interest to you.
The Traffic Sources Overview is an important page to study. It is a breakdown of the Traffic Sources Pie Graph from the first page. This page shows you the top sources where your visitors came from and the keywords that your visitors found your website with in the search engines.

These are the main areas to know when viewing your Website Analytics report. Reviewing your statistics is a vital part of the initial website development period when your website is new and getting off the ground. If you log in to your Analytics account you can get more detailed reports, and setup some cool things such as "Funnels", but we will leave this for another blog post!
< Back to
Business & Technology Blog