New Twitter Retweet Feature
It is currently still in beta, and according to the official Twitter Blog only open to a very small percentage of accounts , but it looks like a very promising feature so far.
You will now see people you're not following appear on your feed if something they have said has been retweeted by someone on your follow list.
I think this is a great way to find new (and prequalified) people as they are people that your followers are following. This also opens up your ability to find new followers for your account, as anything of yours that gets retweeted will appear on followers of your followers walls!
There is also a new Retweets function on your menu bar that shows everything that has been retweeted.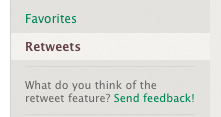 And here is what a retweeted item looks like (from none other than Google's own Matt Cutts):
And the final part of the new feature is the new Retweet options on the Retweet page. You are able to see Retweets by others, Retweets that you have made and things you have said that have been retweeted.

Overall, we really like this new feature and the additional functionality that it will bring. Thumbs up to Twitter on this one.
Whilst you're here, you can also follow Antevo on Twitter.
< Back to
Business & Technology Blog