Inside MYOB's LiveAccounts Beta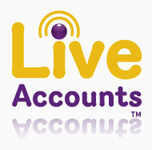 MYOB bought out hosting company Smartyhost for $7m a little while back, so it seemed logical they were moving towards into an online version of their accounting software.
Around a month ago MYOB announced their online product to be known as LiveAccounts. When I spoke to MYOB customer support I was told it would be released around the end of July. I assume this will still be the date it goes public if the beta program runs smoothly until then.
LiveAccounts is an online version of their basic product and does not include things such as payroll or stock keeping.
The beta program is a free trial for 30 days, after which you need to subscribe for $35/month to continue using the SaaS (software as a service) based system. This price point seems a little bit higher than most people would have liked. The equivalent software package sells for $399, so the breakeven point is a little under 12 months. If you normally update your MYOB version yearly, then this might be good value to you. You also need to remember that MYOB take care of the backups, and that you can access the service from any computer. These features might make the $35/month a little more feasible to you.
MYOB LiveAccounts only works in the following browsers currently:
Internet Explorer 8
Internet Explorer 7
Firefox 3.5
Whilst this isn't ideal being a Chrome based Mac user, I can understand they really want to get the system tight before branching out into other browsers.
On first impressions the interface is really clean, and really well set out. The main menu is broken into Invoices, Expenses, Banking, Contacts and Reports.

There are some great advanced features such as linking bank accounts to automatically grab your latest bank data, and automatic emailing of invoices to your customers.
The Reporting area is very well polished with 25 different reports you can generate from your MYOB data (Balance Sheet, Profit & Loss, Unpaid Invoices etc.)
The website is really responsive and you never have to wait long for things to load including the more complex reports.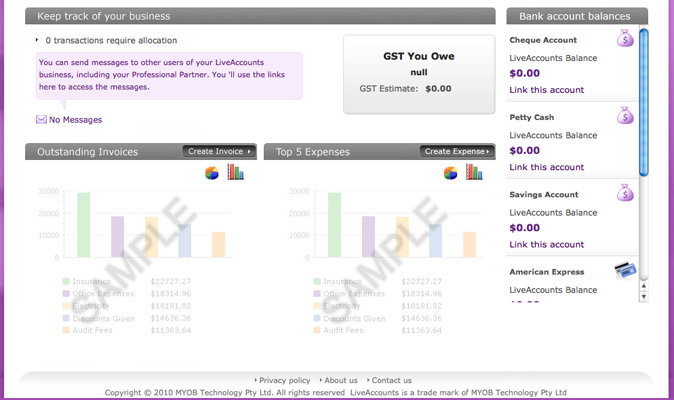 Overall, it looks like a really good product and MYOB have definitely done their research on US competitors Mint and Freshbooks, who are a few steps ahead with their fancy iPhone apps and the like.
We're a big fan of cloud based products. Check out this cloud backup software.
To sign up for the beta program, you can register at the LiveAccounts website. If you get accepted and sign up, be sure to say "antevo" referred you ;)
Update (28/07/2010): MYOB have made some fixes to the software (the beauty of SaaS!). For those wondering, there are over 2,500 users in the beta program also.
Update (09/08/2010): MYOB have updated their subscription page and it appears to be $25/month to use their LiveAccounts service.
< Back to
Business & Technology Blog